LaLiga was once again at centre stage as the World Football Summit (WFS), a forum bringing together a wide array of professionals from the football industry, kicked off its second and last day on Friday 28 October. The present and future of women's football was one of the subjects on the table in the morning, with LaLiga's head of women's football, Pedro Malabia, delivering a talk on the subject. Malabia argued that the growth of the female game in recent years has shown that it is a viable, formidable "product and has to be treated as such." "There are five million registered female players worldwide. There has been fivefold growth on this front," he went on, before citing "England, Germany, France and the USA" as the game's four hotspots for development of the female game at present, providing a blueprint for others to follow.
Women's football's burgeoning status is attested to by facts like rising TV audiences, with the most recent Women's World Cup proving a huge hit. "The last Women's World Cup final was followed by 29 million viewers in the USA, outstripping the ratings for the NBA. The president of FOX said that it was their best-ever summer," Malabia observed.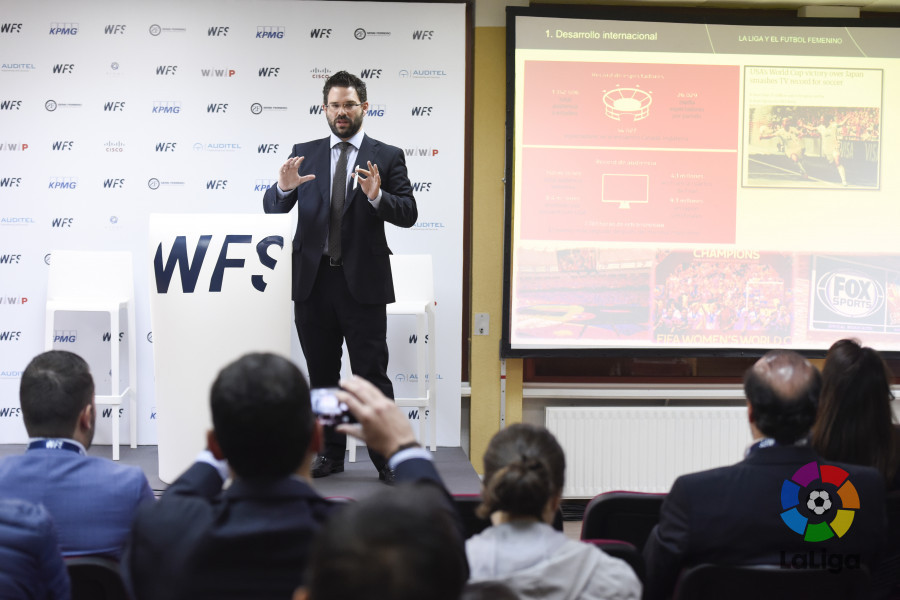 Malabia went on to note that, "Nine of the 16 teams competing in the Liga Iberdrola are linked to men's clubs. Furthermore, of the 42 professional football clubs in Spain, 20 of them have a ladies' team. We've already managed to broadcast three matches on terrestrial television. We at LaLiga are working to convince those clubs that don't currently have a women's team that it represents a good investment."
The women's game comes under the remit of the Spanish Football Federation (RFEF), but LaLiga's commitment to ladies' football has seen the organisation become directly involved in its development: "It was a league that had been somewhat neglected and yet we had a situation in which the clubs were investing heavily in their ladies' teams. The environment that they were playing in helped the female players to secure professional contracts. LaLiga recognised that investment was a vital tool to drive the development of the clubs' structures. Any club that's in need of anything to assist in the development of the women's game can count on LaLiga's support. Our aim is to see the league become a professional one," concluded Malabia.
©

LaLiga

- Year 2016