Hotel ILUNION Atrium today played host to a LaLiga-organised conference entitled Women's Football in Spain: towards a New Era, which featured participation from LaLiga president Javier Tebas and Pedro Malabia, the institution's head of women's football. It was also attended by women's clubs, footballers and representatives from media outlets and commercial stakeholders. The main goal of the event, which included a number of guest speakers, was to analyse the state of the female game, assessing the progress made in recent times.
"LaLiga is here to help women's football by sharing our knowledge and experience. We've already achieved a lot, but we've still got plenty of work to do," said president Tebas in his opening address. He also commented that LaLiga's aim "isn't to run women's competitions, but rather to push the game forward."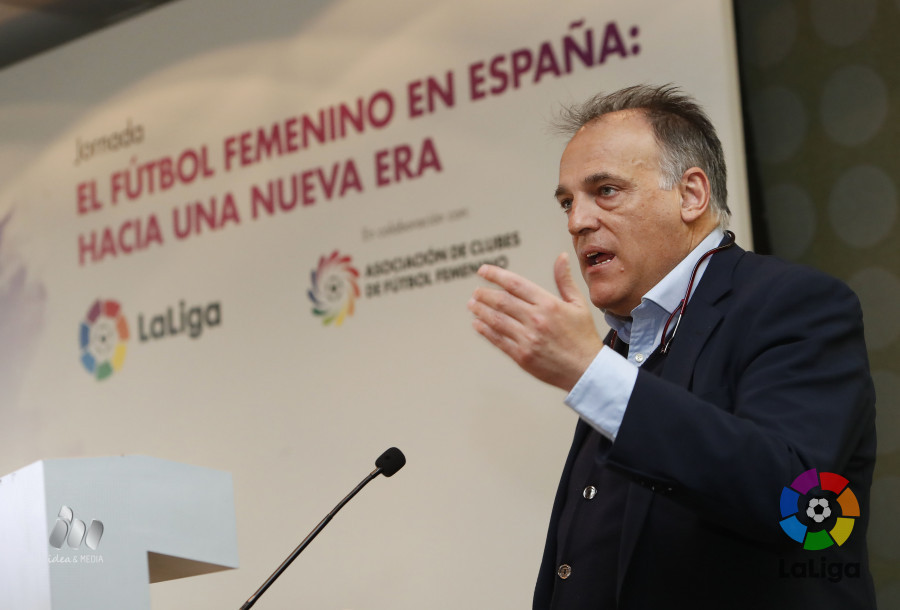 The proceedings notably included a panel discussion on the affiliation of men's and women's teams, with contributions from Francisco J. Catalan, the president of Levante UD; Constantino Fernandez, the president of RC Deportivo; Miguel Angel Gil Marin, the CEO of Atletico Madrid; and Silvia Muriel, a board member at Athletic Club. "Atletico Madrid have integrated the women's team fully into the club's set-up this season because as far as we're concerned, there's no difference between them and the lads. As a case in point, our new stadium will have four dressing rooms: two for the men's squad and two for the women's one," Gil Marin remarked. For his part, Mr Catalan stated that "it is Levante Women's duty, as a pioneering team, to showcase the importance of women's football to the other clubs."
On a different note, Luis Gomez, the brand and corporate reputation director at Iberdrola, spoke about the opportunity that the female game represents for brands. "We have a long-term commitment to women's football. Iberdrola is here to stay," he stressed. These sentiments were echoed by president Tebas: "LaLiga is working towards establishing a brand. It's a long process, but Spanish women's football deserves it."
Other issues explored were the future employment prospects for female players, the format and organisation of women's competitions, digital platforms, the broadcasting landscape and the media. Eduardo Garcia, the director of Radio MARCA, Lola Romero, a board member at Atletico Madrid Women, and Real Sociedad Women star Aintzane Encinas were among the contributors.
Pedro Malabia, the head of women's football at LaLiga, made the closing remarks at the event, thanking those present for attending and highlighting LaLiga's efforts over the last 12 months: "We've been working on this project for a year now and we'll continue to strive to further the growth of women's football."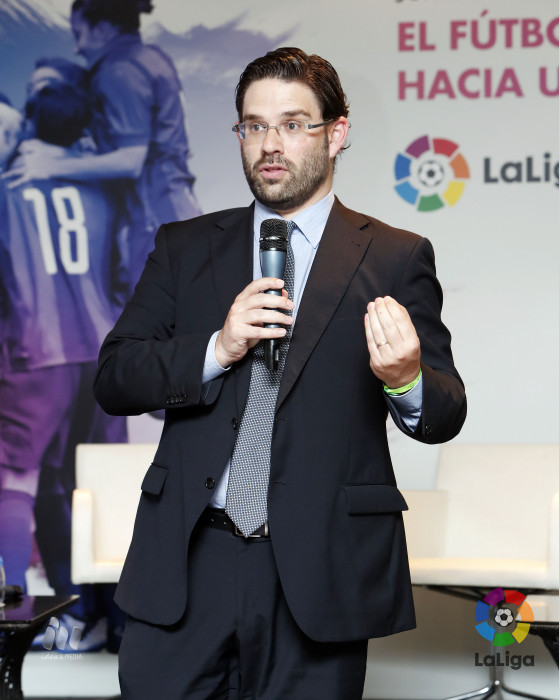 ©

LaLiga

- Year 2017