Rome's Stadio Olimpico became the epicentre of the footballing world on Wednesday 12 October as it hosted the second edition of the United by Peace match involving the direct participation of LaLiga. The event was organised by Pope Francis to support the educational and social programmes of the Scholas Occurrentes Foundation, CSI (Centre for Italian Sport), UNITALSI (National Italian Union for the Transport of the Sick to Lourdes and International Shrines) and AMLIB (the Community for Love and Freedom).
A host of football legends and current stars, including Diego Maradona, Ronaldinho, Cafu, Robert Pires, Eric Abidal, Edgar Davids, Rafa Marquez and Francesco Totti, faced each other in this wonderful duel to the delight of the fans present at the iconic stadium in the Italian capital.
Maradona, the captain of the Rest of the World XI, and Ronaldinho, wearing the armband for the LaLiga for Peace team, welcomed the public and kicked off this charitable celebration by planting an olive tree as a symbol of peace.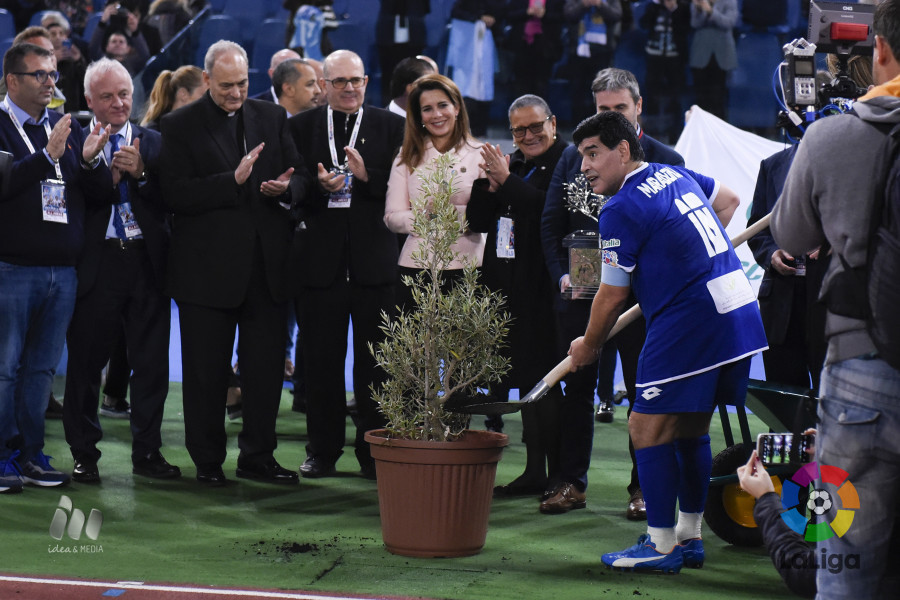 Out on the pitch, warm gestures and smiles were the common theme among a great constellation of stars who devoted their time to form part of this very special event. In the case of the players who hung up their boots some time ago, it was clear that their magic and quality are undiminished after all these years.
The match ended 4-3, with LaLiga for Peace winning by the slimmest of margins through goals by Frederic Kanoute, Bojan Krkic, Hernan Crespo and Fernando Cavenaghi. Antonio Di Natale, Totti and Nicolas Burdisso scored the goals for the Rest of the World XI. More important than the result, players of different religious and cultural backgrounds made a decisive statement in the city of Rome: the world of football is united for peace.
The funds raised will be used to finance projects run by the partner foundations. In Italy, specifically, support will be provided to those affected by the earthquake in the vicinity of Amatrice on 24 August this year.
©

LaLiga

- Year 2016