Amid the deafening cheers of 10,000 supporters and spectators at Dubai Mall, LaLiga du Football Champions crowned the 2016/2017 season winners of the UAE Schools & Streets Cup, the nation's official youth football competition.
The nation's final eight teams gave it their all on a day that rounded off duFC's UAE Schools and Street's Cup, a six-month journey that brought together over 12,000 players hailing from the four corners of the UAE with over 3,864 goals and 1,060 games played in the nation's best venues in Abu Dhabi, Al Ain, Dubai and Sharjah.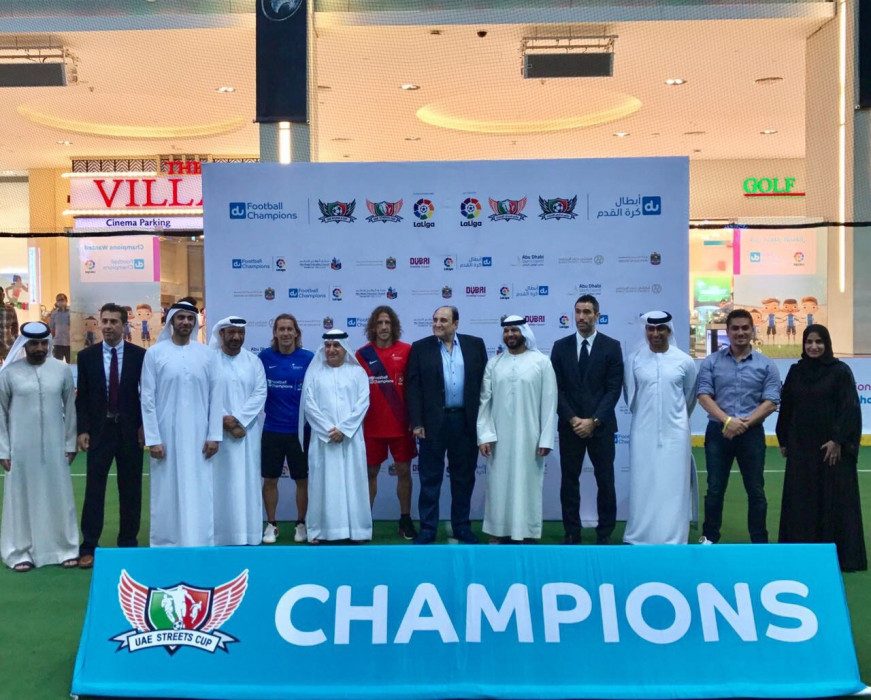 The finals were attended by H.E. Ibrahim Abdul Malik, General Secretary of the General Authority of Youth & Sports Welfare, Mr. Marwan bin Ghalita, President, UAE Football Association, HE Mohamed Salem Al Dhahery, Executive Director of School Operations at Abu Dhabi Educational Council, Mr. Osman Sultan, CEO du, and Fernando Sanz, LaLiga General Director Middle East North Africa, Head of International Sport Projects and the first Global Ambassador of LaLiga. Michel Salgado and Carles Puyol attended as LaLiga Ambassadors with Aisha Al Siri, Director of Nutrition & School Health, MOE, in addition to senior officials from Abu Dhabi & Dubai Sports Council, Ministry of Education, ADEC and KHDA.
An exhibition match recreating the famed El Clasico rivalry was played, with former FC Barcelona captain Carles Puyol's side running out 2-0 winners over a team led by ex-Real Madrid stars Fernando Sanz and Michel Salgado.
The overwhelming success of duFC's second season – the only international scouting platform in the Middle East - reflects its partnership with LaLiga, which has already produced one player scouted through duFC for Malaga FC and four others being eyed by other LaLiga clubs. These players, along with other scouted players, are honing their skills at the du LaLiga HPC.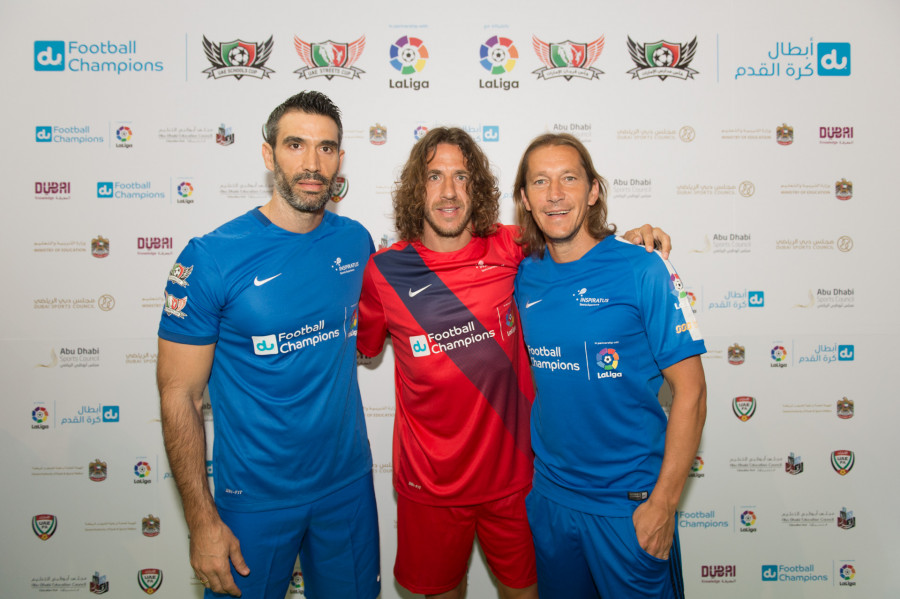 Speaking after the finals, du CEO Osman Sultan said: "The overwhelming participation we had this year from all corners of the UAE responded to a cry from all budding footballers for an opportunity to play in a world-class tournament and the chance to be scouted. Today is a celebration for all of the UAE and we are proud to work together with football and educational authorities to help make youth dreams come true. At du, we are very proud of this platform which has taken youth football in the UAE to a totally new level."
Reflecting on his participation in the finals, LaLiga Ambassador Puyol said: "It's great to be here in the UAE with the next generation of footballers! duFC is a platform that every young football talent dreams of and offers them the opportunity to be scouted. I look forward to the next LaLiga star emerging from the UAE."
©

LaLiga

- Year 2017